The combat belt SHB-2 is an unloading platform on which you can attach the necessary summaries and equipment. In this configuration, the belt is a self-sufficient unloading system, and the SHB-2 combat belt can also be used complete with a body armor and shoulder straps.
SHOOTER BELT can be used as a pistol belt, which is extremely convenient at shooting ranges and ranges - you can attach spare magazines, reset bags, walkie-talkies, first aid kits, flashlight or knife covers, etc. to the belt.
2 continuous strips of MOLLE PALS are sewn on top of the belt, which makes it possible to attach spare magazines, drop bags, walkie-talkies, first aid kits, covers for a flashlight or knife, etc.

Due to the rigid design, a properly adjusted belt will not fall, sag, or slip out of clothing during active physical exertion or in combat conditions.
The internal shock-absorbing 3D mesh promotes air circulation and prevents the belt from slipping on clothes.
The inner belt on the buckle with double twist adjustment is sewn completely along the entire length of the belt.
There are 4 buckles on the belt for attaching the belt to the body armor and for attaching shoulder straps.
Suspenders (shoulder straps) are not included. Suspenders can be ordered additionally Suspenders to RPS
вий Пояс SHB-2
Design features:
3 MOLLE PALS straps;
The possibility of fastening gear directly to the waistband via 3 pockets;
Velcro along the entire length of the belt tunnel;
3D mesh on the inner belt surface;
Removable plastic stiffening plate;
Main fabric - Cordura 1000D.
Belt length:
Size S - 80 sm;
Size M - 90 sm;
Size L - 100 sm.
When buying the warbelt, we recommend that you order 1 size smaller.
To determine the required belt size, use the following table: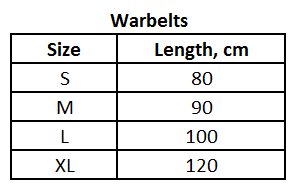 Customers who bought this product also bought: