Padded belt for FORCE BELT BT12
Padded belt is designed for use with the tactical belt UTactic FORCE BELT BT12. Allows you to comfortably use FORCE BELT BT12 on top of outerwear.
Padded belt is attached to the tactical belt FORCE BELT BT12 using a velcro.
The inner side of the belt is made of mesh with 4 anti-skid inserts.
Belt width:
70 mm.
Belt length:
Size S - 80 сm;
Size M - 90 сm;
Size L - 100 сm;
Size ХL - 120 сm.
To determine the required belt size, use the following table: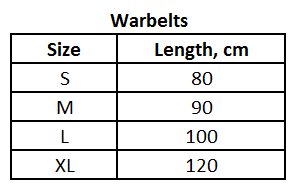 Customers who bought this product also bought: